Dukkah is a wonderful blend of nuts and spices.
Toasted nuts and seeds are ground to a coarse powder that you'll want to sprinkle over just about everything. Sprinkle it on anything from hummus, dips, roasted veg and even on top of avocado toast.
What is Dukkah?
Duqqa, du'ah, do'a, or dukkah is an Egyptian and Middle Eastern condiment made up of a mixture of herbs, nuts, and spices. It's typically used as a dip with bread or fresh vegetables for an hors d'œuvre.
This pumpkin seed dukkah is:
Gluten Free
Nut Free
Less than 10 Ingredients
Customisable
Quick and Easy to make
Made from pantry ingredients
What to use it on
Sprinkled on Salads
On top of dips
Avocado toast
On top of bread before baking
As a coating or part of a marinade for roasted vegetables or tofu
In a bread crumb coating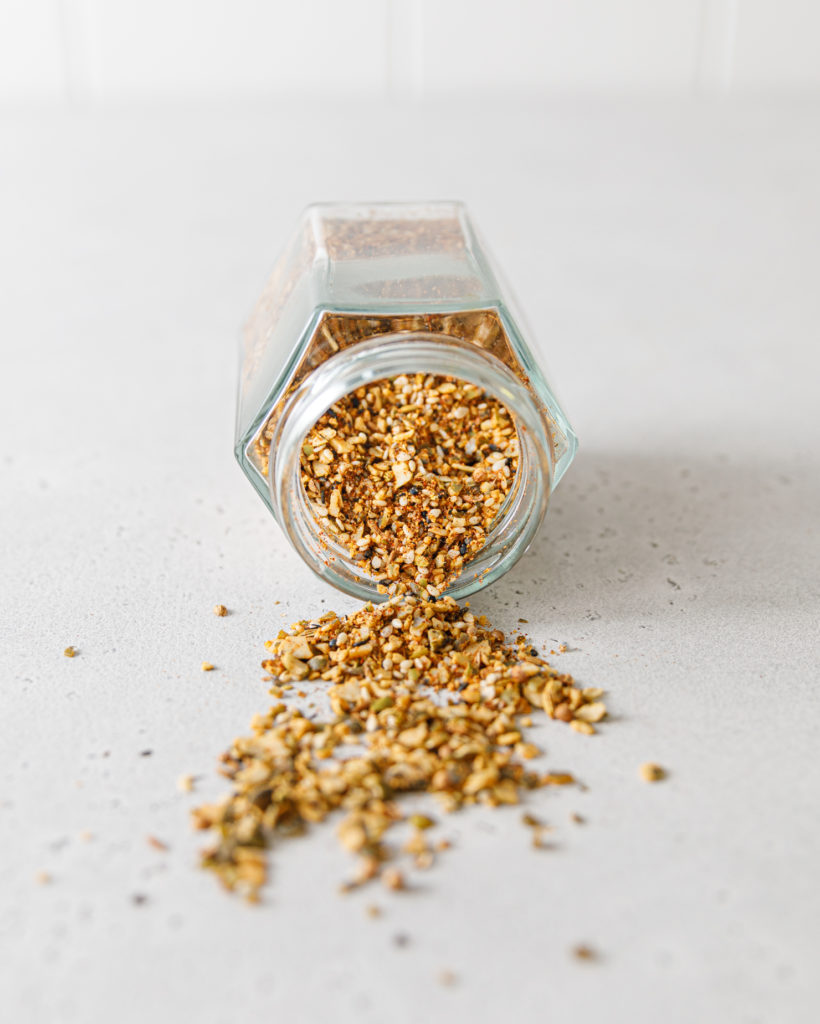 ---
PUMPKIN SEED DUKKAH
COOK TIME: 6 minutes
PREP TIME: 5 minutes
MAKES: approx 200g

INGREDIENTS
PRODUCE:
2 – 3 Garlic cloves
300 g Heirloom tomatoes
170 g Cashews*
1/2 Can of chickpeas (200g) – drained
1 Pack vegan pastry
CONDIMENTS:
2 tbsp Lemon juice
1 tbsp Dijon mustard
CONDIMENTS:
1 tbsp Dijon mustard
2 tbsp Lemon juice
BAKING & SPICES:
3 tbsp Nutritional yeast

1 tsp Salt
2 tsp Herbes de Provence
LIQUIDS:
1/2 tsp Fennel Seeds⁠
1/2 tsp Cumin Seeds⁠
1/2 Tsp Coriander seeds⁠
3 tsp sesame seeds (I used half white sesame and half black sesame)⁠
1/4 tsp dried chilli powder or flakes if you prefer⁠
1 Tsp Salt⁠
1 tsp paprika⁠
4 tbsp pumpkin seeds⁠
⁠Place all the ingredients in a dry pan and toast until aromatic and lightly golden.⁠
Leave to cool and then pulse in a grinder or using a pestle and mortar.
NOTES
Do not over blend this is not a paste it is for sprinkling